He's her rock in the midst of the storm

When Maggie Ward's world is torn apart by sudden tragedy, the only thing that makes her days bearable is Clay Thompson's unwavering presence. He's protective, caring, and everything she could ask for in a friend. But when she finds herself longing for more than friendship, it will take a little seduction to convince the stubborn mechanic she's ready to start living again.

She's his heart, whether he knows it or not

Clay Thompson's got the taking-care-of-others business down pat, only he's never faced this particular challenge before—the one woman he's always wanted is unexpectedly his to care for. Suddenly it's not just responsibility driving him, but a wild desire to make Maggie truly his. But following his heart might mean sacrificing the family he's held together for years.
Buy Links
Trade Paperback:

978-1508423928

Amazon
What I thought about Let it Ride
Let It Ride starts out with a grief-stricken Maggie and Clay, both of them having suffered a devastating loss. I was a little bit teary-eyed in those first few chapters, as Maggie gets back on her feet with the help of her friends, including her husband's friend Clay.
Trying to move on from the past isn't easy, and when Maggie realizes what she is missing in her life, she looks at Clay in a different way. He's okay with that, but there are others that aren't exactly happy for Maggie and Clay to move on together.
This is a very poignant friends-to-lovers story. Clay is a strong, silent type with a heart of gold, and his sensitivity to Maggie made me want to fall in love with him too. What really had me swooning was the way he stood up for himself and Maggie when he had to. How Maggie and Clay come to terms with their loss and their future made my heart swell a bit and I may have had a few happy tears for those pages as well.
If you are looking for a sweet friends-to-lovers romance that also has something important to say about friendship, I think you'll like Let It Ride.
ARC provided for review.
Official Bio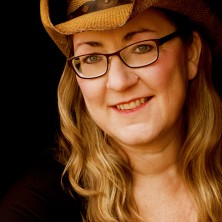 Vivian Arend in one word: Adventurous. In a sentence: Willing to try just about anything once. That wide-eyed attitude has taken her around North America, through parts of Europe, and into Central and South America, often with no running water.
Her optimistic outlook also meant that when challenged to write a book, she gave it a shot, and discovered creating worlds to play in was nearly as addictive as traveling the real one. Now a New York Times and USA Today bestselling author of both contemporary and paranormal stories, Vivian continues to explore, write and otherwise keep herself well entertained.