A part time student, CNA, and caretaker for her slightly deranged mother, Clara McKiney doesn't have time for a relationship. That's why her friends with benefits arrangement with sexy and ridiculously charming Jax Hensley works perfectly.

But Jax has other ideas.

The moment Jax met Clara he was instantly drawn to her wittiness, confidence, and gorgeous smile. Even though he agreed to the friends with benefits arrangement, he secretly hopes for more than their weekend hook ups.

When Jax's estranged mother mysteriously disappears, he sees an opportunity to spend more time with Clara. After convincing her to return home with him, a new agreement is made. One road trip and week together to find out why his mom vanished into thin air.

Things are about to get complicated.
Buy Links
Amazon
What I thought about Ruin Me
Jax and Clara have a friends with benefits relationship but Jax wants more. He really likes Clara and wants more than just a quick night together (not that he's giving that up though). Clara is hesitant to get involved with Jax. Her life is full of taking care of her mother after a devastating car accident rearranges her life, not to mention her last boyfriend dumped her because of all of it too. She doesn't have time relive that heartache when she's got so many other things to manage in her life.
Jax isn't about to give up on Clara, and when he receives a cryptic "help me" call from his mother back in Wyoming, he asks Clara to accompany him, knowing that if she says yes, she'll see all the big bad stuff in his past. But he isn't afraid of that, he'll take whatever time he can get to convince Clara that he's worthy of more than an arms-length sex-only relationship.
When Clara agrees, the two set out on their road trip. It doesn't take much for Jax to convince Clara to let go of her reservations about getting involved. Their trip down memory lane through the drugs, alcohol and prostitution lifestyle he's left behind is an eye-opener for her. It would have been so easy for Jax to succumb to that life with his mother, and it's a testament to his character that he pulled out of it and is making a better life for himself. He learns some hard lessons on his trip back to Wyoming, finally realizing just how manipulative his mother is and the lengths she will go to get the drugs and money she wants. It's a good thing that someone who truly cares about him is there with him.
I thought Ruin Me was a very sweet romance set among the dark and crusty life of long-term drug addiction. I loved reading Jax's reactions to his mother, starting with his concern for her and ending in a much different way. Ruin Me was really a story of personal growth and hard decisions, and it was a perfect addition to the Nova series.
ARC provided for review.
About the Author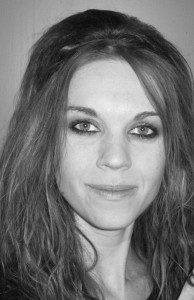 The New York Times and USA Today bestselling author, Jessica Sorensen, lives in the snowy mountains of Wyoming. When she's not writing, she spends her time reading and hanging out with her family.