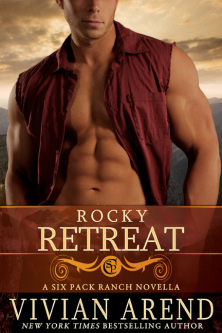 Finding white-hot love in a white-out…
Eight months ago, Lee Coleman met the woman of his dreams…then lost her to another man. He buried his disappointment by throwing himself into work on the family ranch, but when a winter storm leaves him stranded, Lee finds more than shelter in the rustic safety of a hunter's cabin—he finds a second shot at love.
Rachel Malone's heart has been broken and stomped on by her cheating ex, and she's determined to never fall in love again. But a rebound fling? Doesn't sound like such a bad idea, especially when she's snowed-in with a gorgeous, sweet-talking Coleman.
Despite their off-the-charts chemistry, Lee makes it clear he wants more than a temporary romp. In fact, he's made it his mission to put a smile back on her face, even if it means taking it slow and resisting the scorching heat between them. This time around, he wants forever, while Rachel is positive that forever is a fool's dream.
Lee can't wait to prove her wrong…
What I Thought About Rocky Retreat
Rachel retreats to a cabin in the woods to get over the breakup of her six-month marriage, when along comes Lee Colemen. Getting stranded together in the small cabin gives them time to talk, and other things, and it's the beginning of a really sweet novella-sized romance.
I loved everything about this. The older woman-younger man, his maturity, and her determination to move past her cheating spouse all hit wonderful notes for me in this story. The drama is light, the romance is hot, and the adults all act like adults. I couldn't have asked for more in a romance, and it was a great little read for this Valentine's Day.
ARC provided for review.
Rocky Retreat as a part of a multi-author COWBOYS LAST ALL NIGHT with all new material.
Solo release will be February 17. 2014 for a regular cost of $2.99
Buy Links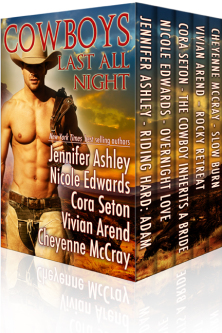 Cowboys Last All Night
Six Pack Ranch
From five New York Times and USA Today bestselling authors, a collection of ALL NEW stories. Sale priced for a limited time, take a ride with Cowboys Last All Night.
RIDING HARD: ADAM by Jennifer Ashley
Injured Adam Campbell returns to the family ranch, sure his movie career is over after a stunt goes wrong. But Bailey Farrell, the mousy girl who helped him graduate high school, now transformed into a beautiful woman, has other ideas. (Riding Hard 1)
OVERNIGHT LOVE by Nicole Edwards
When Lucas Burch and MacKenzie Catlay find themselves caught in an ice storm, sparks fly. Is it possible to share just one night together, or is this a recipe for overnight love? (Dead Heat Ranch)
THE COWBOY INHERITS A BRIDE by Cora Seton
Sunshine Patterson and Cole Linden are pitted against each other for the inheritance of a commercial space and apartment. The competition is intense—the fire between them even hotter. Can Cole and Sunshine find a way to both win? (Cowboys of Chance Creek 0.5)
ROCKY RETREAT by Vivian Arend
When a snowstorm traps Lee Coleman in a remote wilderness cabin with the woman of his dreams, it's time to turn up the cowboy charm and convince Rachel Malone she wants more than a rebound fling… (Six Pack Ranch 7.5)
SLOW BURN by Cheyenne McCray
Falling in love isn't on Agent Trace Davidson's agenda. His only priority is to protect Christie from her ex-husband who is determined she'll never make it to the witness stand to testify against him. (Lawmen 2.5)
Buy Cowboys Last All Night Now