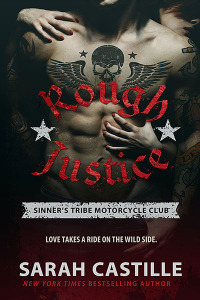 IT TAKES A GOOD, STRONG WOMAN
Raised in a motorcycle gang, tough, beautiful Arianne Hunter has always dreamed of a normal life. But no sooner does she escape her father's domineering grasp than she wakes up to find herself in a rival gang's clubhouse—at the mercy of the dangerously sexy Jagger Knight.
TO TAME A MAN WHO'S HELL ON WHEELS.
The alpha leader of the notorious Sinner's Tribe, Jagger Knight is all muscle, all biker, and all man. But somewhere inside this hard tattooed outlaw, Arianne senses a kindred spirit—and she can't ignore their tempestuous attraction. Can she beat him at his own game in a revved-up blaze of glory? Or will their passion spark a war that's the end of the road for them both?
Buy Links
Amazon US | Amazon UK | Barnes & Noble
Chapters Indigo | Book Depository | Books-A-Million | IndieBound
What I thought about Rough Justice
The action starts right in the very first chapter with an arson and theft at Jagger's clubhouse and the capture of a hot rider wearing the cut of a rival MC. But when the helmet comes off to reveal a fiery woman, Jagger makes the decision to keep her instead of extracting immediate revenge by taking her life. Not all club members are happy about that and now Jagger has to deal with dissension among the ranks. To say he has his hands full is an understatement.
Arianne wants nothing more than to get out of Conundrum and away from the biker life. She doesn't want to be property. She wants her brother Jeff to go with her, but on the night of their getaway, everything goes wrong and she ends up int he hands of Sinner's Tribe and their mouth-watering leader.
There's some insta-chemistry-love between these two. Sometimes that can bug me, but in this case, these two have so much in common it's believable that they would be attracted to their own best traits in someone of the opposite sex. I liked these two together (most of the time). Jagger gave Arianne something she wanted, safety from her father, just not in the way she thought she was going to get it. Although her stay-or-go seesaw attitude got a little overdone toward the end, she eventually sees her real self and makes a decision.
As for Jagger, he's the cool, level-headed president most of the time, except when it comes to Arianne. He has to keep reminding himself that he's not going to get involved. I loved how he protected Arianne from her nasty father, but he had a bit of a mean streak in him too.
I did have some difficulty getting interested in the secondary characters in Rough Justice, mostly because Jagger and Arianne really dominate the story, leaving the rest of the characters without much page time. Dawn, Arianne's best friend, seems to be up next with her story, and she was probably the strongest secondary character. The rest of Sinner's Tribe didn't really stand out to me, and that took away from the story, since a good MC story doesn't lose sight of that brotherhood between the men.
But in spite of a few little itches when reading Rough Justice, I gobbled up the pages and loved Arianne and Jagger's journey to happiness. If you like your MC stories with a little bit of realism and a heaping dose of romance, then you might like Rough Justice.
ARC provided for review.
About the Author
New York Times and USA Today Bestselling author, Sarah Castille, worked and traveled abroad before trading her briefcase and stilettos for a handful of magic beans and a home near the Canadian Rockies. She writes erotic contemporary romance and romantic suspense featuring blazingly hot alpha heroes and the women who tame them.
http://sarahcastille.com/
https://twitter.com/sarah_castille
https://www.facebook.com/sarahcastilleauthor