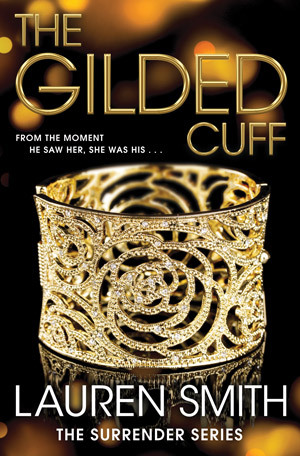 Every passion has its price . . .

Journalist Sophie Ryder has been following Emery Lockwood's story since she was a little girl. There has always been something in his haunted eyes that she couldn't resist and now, when she's certain he holds the key to solving a string of kidnappings, she'll do anything to speak to him. Even if it means venturing deep into the seductive world of the Gilded Cuff, a luxurious BDSM cluwhatb on Long Island's Gold Coast and Emery's personal playground.

From the moment Sophie enters his shadowy, sensual domain, Emery Lockwood knows this tantalizing new little sub was meant to belong to him. However, Sophie wants more from Emery than just pleasure . . . she wants his past. And that is something he isn't willing to give—no matter who is asking. But every moment he spends with Sophie, Emery feels his control slipping and he knows it's only a matter of time before he surrenders to her heart, body, and soul.
THE GILDED CUFF (Part of The Surrender Series)
By Lauren Smith (@LSmithAuthor & LaurenSmithBooks.com)
Grand Central Publishing/Forever Yours | February 10, 2015 | 295 Pages

Buy Links
Amazon || Kobo || B&N
What I thought about The Gilded Cuff
When I read the synopsis to The Gilded Cuff, I thought this was going to be more of an erotic romance, but after reading the book, it seemed to me to be more romantic suspense with BDSM elements. That was okay for me though, because I really liked both the suspense plot and the romance between the main characters.
For me, the best part of The Gilded Cuff was Sophie and Emery. From the very moment they meet at the BDSM club, there's definite heat between these two. I loved the opening scene at the club. When they make a (questionable) deal that puts them together 24x7, it was only a matter of time before they'd fall for each other. I thought the BDSM content was light, with Emery as a Dom with a heart, and Sophie as a mouthy submissive. They were cute together and I loved the romantic element of the golden cuffs.
They both have lots of baggage and rightfully so, based on what happened to them. I loved how they helped each other face some things, and I really liked the suspense plot regarding the kidnappers and who is ultimately behind it all, but at times it seemed uneven to me. There were a lot of twists and unexpected happenings and some of those scenes could have been "more".
Overall, I enjoyed this story. I'll definitely be looking for the second book in the series.
About the Author
Lauren Smith is an attorney by day, author by night, who pens adventurous and edgy romance stories by the light of her smart phone flashlight app. She's a native Oklahoman who lives with her three pets: a feisty chinchilla, sophisticated cat and dapper little schnauzer. She's won multiple awards in several romance subgenres including being an Amazon.com Breakthrough Novel Award Quarter-Finalist and a Semi-Finalist for the Mary Wollstonecraft Shelley Award.
Lauren is represented by the wonderful Pam van Hylckama Vlieg.
Check her out on Facebook at www.facebook.com/LaurenDianaSmith, her blog http://theleagueofrogues.blogspot.com/ or follow her on twitter at @LSmithAuthor.