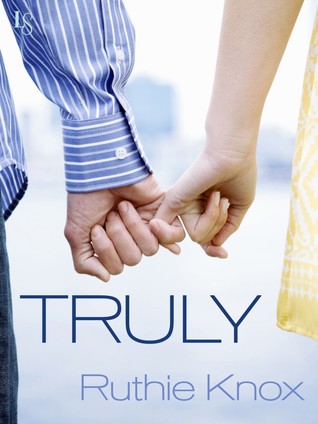 May Fredericks hates New York. Which is fair enough, since New York seems to hate her back. Just weeks after moving from Wisconsin to Manhattan, she receives the world's worst marriage proposal, stabs her boyfriend with a shrimp fork in a very public venue, and accidentally becomes notorious. And that's before she gets mugged.

At her wit's end, May washes up at a Packers bar in Greenwich Village, where she meets a surly, unhelpful guy who hates her shoes and calls her ex a douche.

His name is Ben. He used to be a chef. Now he's a rooftop beekeeper with anger management issues. She wouldn't even like him, but he reminds her of home … and he knows where to find all the best food in the Village.

She makes him laugh. He buys her tacos and cowboy boots. The longer they're stuck together, the better May and Ben get along … and the harder they fall. TRULY is a quirky, modern New York love story unlike any you've read before.

What I thought about Truly
Truly is one of those stories that just got under my skin and into my heart. I've reviewed it a few times since I've read it the first time last fall, and it's one of my go-to stories when I've had a bad day. It's probably my favorite read from Ruthie Knox, although I say that with a little hesitation since I think I say that about everything I read from Ruthie or her alter-ego Robin York. But when it comes to Truly, I just absolutely love this story and the characters.
When I read this the first time, I fell hard for Ben. I'd never read a character like him in other romance titles -- he's gruff, unhappy and isn't afraid to share that with others. It's not an alpha-gruffness either. Life has dealt him some blows, and he's literally fighting his way back. I totally got him. I could relate to his reactions to the overwhelming stressors in his life.

When he meets May, he tries to keep her at arms length, but it's impossible. She's also dealing with some bad stuff in her life -- she's stuck in NYC without any money, unwilling to go back to her former boyfriend-without-a-clue. She finds an unlikely ally in Ben -- and once he opens up to her, it's the start of him finding a way out of his own darkness. That's not to say that May saves him -- oh no. They really save themselves.

It's not just a romance, it's a story of two people finding a new path at those crossroads in life we all have to face from time to time. And while the romance between Ben and May is hot and intimate, it is their individual discovery of the path into their future that really hit home with me.

This was the story that made me a Ruthie Knox fan for life. If you haven't read it, I wholeheartedly recommend it. The writing is top notch and the story is interesting, fast paced and has very unique characters.

I just loved Truly and if you are looking for a romance that's a little different, you might like it too.
Buy Links:
Amazon

Barnes & Noble
ABOUT RUTHIE KNOX:

USA Today bestselling author Ruthie Knox writes contemporary romance that's sexy, witty, and angsty—sometimes all three at once. After training to be a British historian, she became an academic editor instead. Then she got really deeply into knitting, as one does, followed by motherhood and romance novel writing. Her debut novel, Ride with Me, is probably the only existing cross-country bicycling love story. She followed it up with About Last Night, a London-set romance whose hero has the unlikely name of Neville, and then Room at the Inn, a Christmas novella—both of which were finalists for the Romance Writers of America's RITA Award. Her four-book series about the Clark family of Camelot, Ohio, has won accolades for its fresh, funny portrayal of small-town Midwestern life. Ruthie moonlights as a mother, Tweets incessantly, and bakes a mean focaccia. She'd love to hear from you, so visit her website at www.ruthieknox.com and drop her a line.

Website

Facebook

Twitter

Ruthie Knox Goodreads