He's ready to admit she's all grown up…

After two tours of duty, former Army Ranger Jack Hunter is back in the US, working to keep DreamMakers a brilliant success. Now that his best friend's little sister is home from college, it's time to retire his hands-off policy and take action. He wants Pepper Wilson in his bed, but seducing the feisty redhead could be dangerous for more than one reason.

She's ready to push all his buttons…

Pepper is tired of being bossed around by everyone in her life, especially arrogant, annoying, overbearing Jack Hunter. While she can't deny the man is out-of-this-world gorgeous, his alpha routine is getting old. His steely determination proves a match for her own, though, and the attraction simmering between them ignites into fiery passion.

But can their wild sexual exploration turn into more without someone getting burned?
Years ago it was far easier for Jack Hunter to keep his hands off his best friend's little sister. Before they'd signed up and done a couple tours of duty, Pepper Wilson had been nothing more than an annoying tag-along brat. Only now that he's back for good and working to make DreamMakers a success, Pepper's home from college and determined to push his every button.

Buy Links

Amazon | Barnes & Noble | Kobo | iTunes | All Romance eBooks


What I thought about Love is a Battlefield
I love this series! It's fun and sexy and sometimes a little dirty, but that's all right with me! The idea of three ex-military best friends starting what amounts to a event planning service is unique and puts the guys in a variety of situation that calls for their "skills".
In Love is a Battlefield, the action hits a little close to home when Parker's sister Pepper returns home bruised and battered, and eventually ends up taking refuge in Jack Hunter's apartment where the sparks start flying.

They spend some time during the first part of the book trying to deny the heat between them, until they can't take it anymore. I really liked how Jack dealt with telling Parker about what was happening between him and his sister, avoiding a predictable plot for something much more adult.
There's some drama revolving around how Pepper spent her summer, why she returned home injured and a bit of a surprise as to what was going on behind the scenes. And just when everything could fall apart when Pepper's actions are questioned, Jack has to decide who he's going to trust. Will Jack trust Pepper? You'll have to read it to see!

But the centerpiece of this book is the sexual relationship between Pepper and Jack, and I just love how they were both open and adventurous with their sexuality. Jack's a little bit dominant, and Pepper's a little bit submissive, so they've got that going for them. There's a lot of humor in this too, especially at the start when Jack is trying to keep himself under control.

So if you are looking for something hot, steamy, and a whole lot of fun, definitely check out the DreamMakers series and Love is a Battlefield.
This is my honest review. I may have received this book from Netgalley, Edelweiss, a publisher, an author, a promoter or purchased it. How I obtained the book has no bearing on my review rating.
About Vivian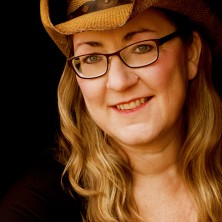 Vivian Arend in one word: Adventurous. In a sentence: Willing to try just about anything once. That wide-eyed attitude has taken her around North America, through parts of Europe, and into Central and South America, often with no running water.

Her optimistic outlook also meant that when challenged to write a book, she gave it a shot, and discovered creating worlds to play in was nearly as addictive as traveling the real one. Now a New York Times and USA Today bestselling author of both contemporary and paranormal stories, Vivian continues to explore, write and otherwise keep herself well entertained.

Vivian Arend: Website | Twitter | Facebook | Newsletter

About Elle
A RITA-award nominated author, Elle Kennedy grew up in the suburbs of Toronto, Ontario, and holds a B.A. in English from York University. From an early age, she knew she wanted to be a writer, and actively began pursuing that dream when she was a teenager.

Elle writes romantic suspense and erotic contemporary romance for various publishers. She loves strong heroines and sexy alpha heroes, and just enough heat and danger to keep things interesting!