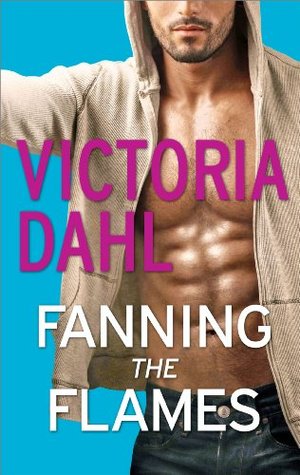 Burning for you

Some men are off-limits. Close friends of your ex-husband, for instance. Or firefighters who work in the same building as you. Yet despite her best judgment, librarian Lauren Foster can't help noticing fire captain Jake Davis whenever he jogs by…shirtless. They've always been friends, but all it takes is one not-so-chance meeting at a local bar and one not-quite-innocent walk home to ignite a fierce, uncontrollable desire between them.

Widower Jake Davis has tried to ignore the spark he feels whenever Lauren's around, but once he sees her curves in a little black dress, there's no turning back. No matter how often she says she's all wrong for him, the sexy, outspoken divorcée is driving him wild in the best possible way. Maybe she's just blowing off steam. Or maybe he can convince her to fan these flames into something deeper, hotter and truer than they ever expected….
What I thought about Fanning the Flames
This is a sweet little romance novella about Lauren the librarian and Jake the widowed firefighter. They've both got some experience with life, and when Jake and Lauren finally decide to give into their physical attraction for each other, well all sorts of good things happen between these two. Well, that is until Jake's daughter comes home and catches them making out on the couch! In they end they have to decide whether they are going to take a chance on each other.
The chemistry between Jake and Lauren is hot and there was humor too. I love these stories set in Jackson and this "Girls Night Out" series has gotten off to a great start with Fanning and Flames and Looking for Trouble.
If you aren't reading this series or Victoria Dahl, I'd recommend giving this series a try.
This is my honest review. I may have received this book from Netgalley, Edelweiss, a publisher, an author, a promoter or purchased it. How I obtained the book has no bearing on my review rating.