He's the golden boy with a secret past

When Nicole Adams abruptly cancels their secret fling, Troy Thompson is stunned. The sex between them is sizzling, but she's ready to move on—find a reliable guy, settle down, pop out a few babies. The thought of Nic in another man's arms is maddening. And while her agenda freaks him out, Troy knows there's no one in town nearly good enough for her. No one, that is, except him.

She's his redemption and his future

Nicole doesn't regret her sexual romp with Troy, but when he insists on taking the next step with her—marriage and parenthood—she figures he's out of his mind. Troy? Husband and daddy material? Oh, he's sexy beyond belief, with the ability to melt her panties with a single command, but the man's not known for being responsible. Trying for forever with Mr. Frivolous? Everyone thinks it's a fool's game.

Everyone except Troy, who's determined to make Nicole see the real him under the shiny exterior.
Buy Links
Amazon | Nook | Kobo | iBooks | Google Play
What I thought about A Wild Ride
In spite of having some sizzling hot chemistry with the youngest Thompson brother, Troy, Nicole decides that she's done with the friends-with-benefits secret arrangement she has with Troy, so she cuts him loose.
But Troy isn't ready to give up on Nicole yet and so he sets to win her back. Nicole tries to resist and there are some funny disastrous dates in there... but you know how it goes--she's not going to be able to resist the Thompson charm for long.
I really love this series. Each book works well as a standalone and will make you want to read about the other brothers. Troy was a bit special to me as the youngest brother, cause I personally think the youngest gets shortchanged in some ways, so I appreciated that aspect in the book.
Even though Nicole bugged me a bit, I liked these two together. A Wild Ride is a

v

ery easy-to-read contemporary romance with

the

hot guy-next-door finding love. Sweet. Perfect ending to the series.
ARC provided for review.
Official Bio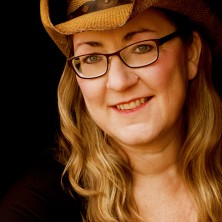 Vivian Arend in one word: Adventurous. In a sentence: Willing to try just about anything once. That wide-eyed attitude has taken her around North America, through parts of Europe, and into Central and South America, often with no running water.
Her optimistic outlook also meant that when challenged to write a book, she gave it a shot, and discovered creating worlds to play in was nearly as addictive as traveling the real one. Now a New York Times and USA Today bestselling author of both contemporary and paranormal stories, Vivian continues to explore, write and otherwise keep herself well entertained.
---
Website | Twitter | Facebook | Newsletter