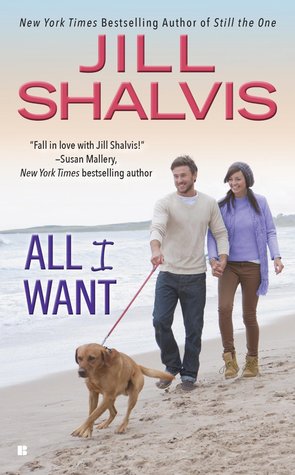 Summary
Pilot-for-hire Zoe Stone is happy to call Sunshine, Idaho, her home base. But her quiet life is thrown for a loop when her brother's friend Parker comes to stay with her for a week. The U.S. Fish and Wildlife special agent is a handsome flirt with a gift for getting under her skin. And the situation only escalates when Parker hires her to fly him around the area while he collects evidence on a suspected smuggler.
Now she has to live and work with the guy. But when they're in the air, she sees another side of him. He's driven, focused, and sharp. And while he enjoys giving commentary on her blind dates, she quickly realizes with a shock that it's Parker who gets her engines going…
Buy it in Print:
Buy the eBook:
What I thought about All I Want
Zoe is the older sister of Darcy and Wyatt, characters introduced previously in this series. She's single, dating and maybe ready to let someone in her life after taking care of her siblings for years. She can be a little prickly too, and I totally fell in love with her when one of her suitors tells her: "... you wear a sign on your forehead that says back the fuck off." I got her. She's serious about what she wants. She's strong and smart and a natural born caregiver.
Parker shares some of these traits with Zoe and when they meet, well, it's pretty much a done deal between these two. Parker is a friend of Zoe's brother Wyatt, and he's staying a few weeks staying with Zoe while he's on "vacation" in Idaho. There's tons of chemistry between these two and it soon becomes clear that things are getting more serious than either one of them anticipate. But Parker's vacation is really just a front for his real reason to be in Idaho, and that's to pursue an accomplished poacher and criminal, Tripp Carver.
But when Parker's case comes to a close and he returns to his job, both Zoe and Parker have to deal with their emotional state. It' not pretty. They both had to decide what it is they really want.
I loved everything about this story -- the romance between Zoe and Parker, the commentary from Zoe's family, the criminal subplot and especially Parker's sister Amory. Oh, and I can't for Oreo, Bonnie and Clyde cause I loved them too! The story moves right along and I found I couldn't stop reading until I got to the end.
This book works very well as a standalone, so if you are not reading this series or author, I recommend this very sweet contemporary romance.
Flash Giveaway
I've got two copies to gift away, randomly selected from the comments on this post! Just leave a comment letting me know you'd like to read this title. Giveaway ends 10/2/15.
About the Author
New York Times and USA Today bestselling author Jill Shalvis lives in a small town in the Sierras full of quirky characters. Any resemblance to the quirky characters in her books is, um, mostly coincidental. Look for Jill's sexy contemporary and award-winning books wherever romances are sold and click on the blog button above for a complete book list and daily blog detailing her city-girl-living-in-the-mountains adventures.
http://jillshalvis.com/
Connect With Jill