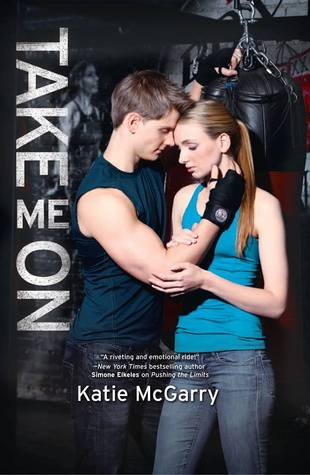 Acclaimed author Katie McGarry returns with the knockout new story of two high school seniors who are about to learn what winning really means.
Champion kickboxer Haley swore she'd never set foot in the ring again after one tragic night. But then the guy she can't stop thinking about accepts a mixed martial arts fight in her honor. Suddenly, Haley has to train West Young. All attitude, West is everything Haley promised herself she'd stay away from. Yet he won't last five seconds in the ring without her help.
West is keeping a big secret from Haley. About who he really is. But helping her-fighting for her-is a shot at redemption. Especially since it's his fault his family is falling apart. He can't change the past, but maybe he can change Haley's future.
Hayley and West have agreed to keep their relationship strictly in the ring. But as an unexpected bond forms between them and attraction mocks their best intentions, they'll face their darkest fears and discover love is worth fighting for.
Buy Links
Amazon
Barnes & Noble
What I thought about Take Me On
I read Take Me On back in May when it was first released. I got to the end, and I'll admit, I wanted more. Something felt missing to me. But there is something very unique about Katie McGarry's books in this series. My first read is usually all about devouring the story and wanting to know what happens, but that second read is all about picking out the wonderful layers of the story and enjoying the richness of it. So I waited, and I just read Take Me On for a second time and as with the other books in this series, I'm blown away by this wonderful story.

It begins with West. He ripped his sister Rachel off for cash in the previous book in the series, setting up events that had very serious consequences. When we see him in Take Me On, he's almost at rock bottom. He blames himself for Rachel's accident, he's been expelled from prep school, and his dad has kicked him out of his house. Traumatic stuff for a high school senior. He gets involved in an altercation near the strip mall that involves Haley and when he runs into her at his new school, it doesn't take long for him to develop feelings for her.

Haley is in dire straits herself. Her father has lost his job, and her family is living with an tyrant of an uncle. And then there's Matt, her ex. She's scared of him in a big way, even though she's a national titleholder in martial arts. There's lots of bad blood there and it doesn't help that West goads Matt into a martial arts match in two months time. It's a good think Haley can train him.

"Home" is such a strong theme in this story. Losing it, finding it, leaving it -- it's all in Take Me On. The challenges that Haley faces with her home situation are heart-breaking, and I couldn't help but think of other families that have gone through the same situations her family goes through. Both Haley and West are searching for home, and there's a great moment when he makes his realization about what home is all about.

"For weeks Haley and I have talked about what home is and what it means; a building, a structure, a memory. It's none of those things. For me, home is the contentment currently bubbling up inside me. Home is the rush of emotions buzzing in my veins." loc 3169

or when he says this about Rachel…

"Besides the fact she can't drive anymore and that her beloved Mustang became toast in the wreck, Rachel can only touch a closed hood. Rachel lost her home." loc 3878

The story builds gradually until everything explodes when serious family secrets are revealed, causing West to make some serious decisions about his future. The last third of this book is wrought with emotion and I just loved it.

I went into this book not really liking West, but it was hard to resist him and his determination. Haley was a bit harder to get close to, but then again, she's so busy worrying about everyone else she's lost herself. She carries her own heavy secret, and it's her mom who helps her find the courage to deal with it.

As an adult reading YA, this is exactly the kind of book I love. A compelling story that has something to say about issues like growing up, standing on your own, and being brave without beating you over the head. I love the things that Katie McGarry says in this about family, parents, and the mistakes they make. How the truth can set you free. I loved the positive image of a female martial arts champion too and was very happy that Haley could find a way back to her sport.

But Take Me On is really the story of West clawing his way back, and all that he learns in the process. I loved his arc in this story and how Katie McGarry painted each step of West's growth. It was absolutely interesting, dramatic and heart-warming. I just love everything about this one.

Absolutely recommended -- and I mean Take Me On and the entire series!

This is my honest review.