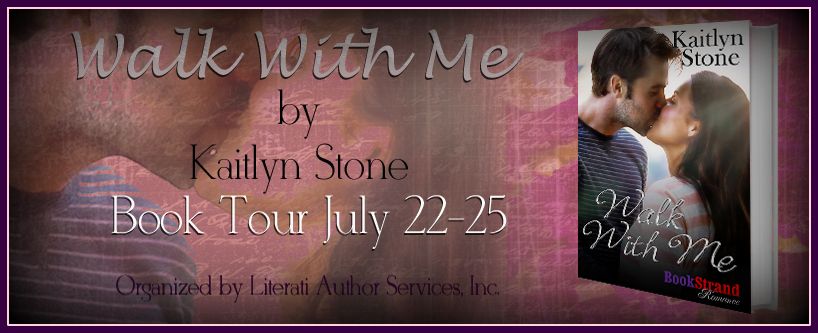 Title:
Walk with Me (The Thin Blue Thread)
Author: Kaitlyn Stone
Genre: Contemporary New Adult
Publish Date: July 22nd, 2014
Publisher: BookStrand
Oraganized by Literati Author Services

~ Synopsis ~
After escaping her abusive parents, nineteen-year-old Kenna Sloane is determined to create an independent life, free of emotional distraction. The last thing this focused college student wants is a relationship, especially with a hot rookie cop popular with the badge bunnies.
When Kenna reluctantly agrees to a double date with Santa Monica cop Donovan Alexander, she's launched on an exciting and dangerous journey. With time, she discovers some souls are instinctively drawn together to quiet the pain of their traumatic pasts. But even after the revelation of Donovan's own secret burden, Kenna continues to battle the fear she may be too broken for her modern day knight in blue.
Can Kenna open her heart to the healing light of true love before peril strikes?


Purchase Links
It's midnight, the day after my eighteenth birthday, and I'm escaping from my life of oppression and pain. With only the fear of being caught and dragged back to my cell of a life, I'm shortening the gap between what I know and the undiscovered world ahead.
The August air whips across my face and through the loose strands of my pulled-back hair. My internal will to survive, fueled by adrenaline, propels me forward into the night with no feeling of cold or discomfort. The wind stings my eyes and they begin to tear, blurring my vision as I sprint along the walking path between the condos and boat slips in the Marina, one foot in front of the other pounding the pavement. Thump, thump, thump. The same beat of my excited heart.
After two blocks I realize they're not chasing after me. I slow to a fast walk, scanning the area ahead and behind me. My chest is heaving as I try to catch my breath and regain my thoughts, but I'm not tired. I could run for miles if I need to, and I will fight tonight to protect myself and my freedom.
I sweep the area one more time before ducking into the shadows of the next condo complex. Catching my breath, I lean against the wall of the entrance, pull out my pay-as-you-go cell phone, and call Danielle and her mom—my lifeline, my ride to freedom. This is it. I pace nervously under the cover of night, still on high alert, and wait for the transportation to my new life. Pumped from the adrenaline surge, my thoughts are spinning and making me dizzy, but assuredly I won't be coming back here anytime soon, if ever.
What I thought about Walk with Me
Kenna runs away from an abusive home life and vows to get her act together and make something of her life. She has no room for a serious boyfriend, choosing to spend time with guys that aren't looking for a relationship.

Until she meets Donovan.

It isn't long before they are dating, and getting to know each other. I liked how they didn't jump on each other from the get go, and took their time getting to know each other before things got physical between them. There's no insta-love here, and that's one of the nicest aspects of this story.

But Donovan has some secrets that he fears will push Kenna away, but eventually he shares those with Kenna and all is good. That is until Kenna's past comes knocking at her door in the form of an ex-hookup and her mother.
There's some tense and unexpected action toward the end of the book that culminates in a very serious situation for Kenna and Donovan. After most of the book is focused on their falling-in-love story, these scenes made for a nice change of pace.

I read Walk with Me over two nights and it did keep me interested until the very exciting ending. The action at the end did a lot to help with some slow spots in the middle. I liked the main characters, although I couldn't help but feel that they were always telling me what they are thinking or feeling instead of showing it, something that could have been improved with another pass of edits.

I'm rating this three stars and a half stars because it held my interest and the characters were likable. Very nice debut effort.

This is my honest review. I may have received this book from Netgalley, Edelweiss, a publisher, an author, a promoter or purchased it. How I obtained the book has no bearing on my review rating.



Since childhood, Kaitlyn Stone has gravitated toward fairy tales and happily- ever-after's, forever chasing the first love dragon. She is a self-professed adventure junkie, constantly talking her husband and family into some new life adventure, where they've learned to just buckle up for the exciting ride. When they do stay home, it's in sunny Southern California located along the Pacific Ocean.
Connect with the Author
Giveaway $25.00 Gift Card