Moon Shine, Takhini Wolves #4
By Vivian Arend
When the past hurts, it bites.

Meet Evan Stone. Laid-back, in-control Alpha of the Takhini Wolves. Life's not perfect, but he's got a good handle on his world. At least, he did—until the night he ends up in jail, soaking wet and wondering what the hell just happened.

The "what" is Amy Ryba, a vengeful female who's decided it's long past time to make Evan pay for his sins. Amy has spent years tracking him down, and the last nine months working in secret to destroy him. She's ready for anything—except discovering the shifter she hates is her mate.

Suddenly, Evan's not so very in control, of himself or his pack. And unless Amy can learn to forgive and forget, she'll have to do the unthinkable: reject her mate.

With two packs watching, one thing is certain. Their personal issues won't stay personal for long. If Amy and Evan can't find a way to work together, there won't a happily-ever-after for them…or any of the wolves of Whitehorse.

Warning: Contains angsty wolves. Lots of angsty wolves causing explosions of all sorts, playing bad pranks, hacking computers, and having angry sex against a wall or two. Not all at the same time, though, because that would be silly.
Exclusive Excerpt:
He wrapped her arms around his back and rolled her on top. She couldn't resist licking his neck, tasting the salt lingering on his skin and the passion of his wild wolf.

They lay in a heated tangle for the longest time. Evan stroking her cheek, Amy drawing circles on his chest with her nails. Somewhere in the silence they were connected, and neither of them seemed ready to break the tenuous bond.

It wasn't forever, but it had been pretty spectacular just the same.

Buy links:

Samhain | Amazon | Barnes & Noble | Kobo | iBooks

What I thought about Moonshine
This is my third title from Vivian Arend, and once again, I'm left wanting more, and I mean that in a good way.
I've read lots of paranormal romance, but not many where the central characters are shifters. I'm finding out what I've been missing.
Evan is the alpha of one pack, Amy the alpha of another. Amy has a score to settle with Evan. There's only one complication. They are mates in the wolf world, and that just really complicates things.
The two alphas have a lot to figure out, and foremost that how to best take care of their pack. It's a matter of two very different styles of leadership versus the need to give in to their wolf and mate. I loved the first 2/3 of this book as they try to figure this all out. I could feel the conflict between their human side and wolf side, as well as their frustrations with each other. Vivian Arend does an awesome job with portraying this and it pulled me into the story in such a way that I didn't want to put it down.

This was my first book read in this series, and I didn't feel like I missed anything by starting with Book 4. If anything, it made me want to go back and read books 1, 2, and 3.

The last 1/3 of the book didn't quite reach the emotional level that the first 2/3 did for me. I'm not sure why that was, but it didn't really detract too much from the story for me. I kept reading and did really love the story of these two wolf packs and these two very hot alphas.
Recommended.

a Rafflecopter giveaway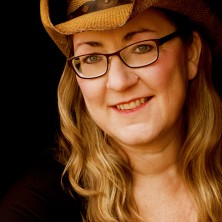 About the Author:

Vivian Arend in one word: Adventurous. In a sentence: Willing to try just about anything once. That wide-eyed attitude has taken her around North America, through parts of Europe, and into Central and South America, often with no running water.

Her optimistic outlook also meant that when challenged to write a book, she gave it a shot, and discovered creating worlds to play in was nearly as addictive as traveling the real one. Now a New York Times and USA Today bestselling author of both contemporary and paranormal stories, Vivian continues to explore, write and otherwise keep herself well entertained.

Website: www.vivianarend.com

Twitter: www.twitter.com/vivianarend

Facebook: www.facebook.com/vivianarend

Newsletter: www.bit.ly/1f0Bcgk