When Avery Hensley met Conner Wellings, she thought she'd found the guy she was going to spend the rest of her life with. She got married young and had the most beautiful son in the world.
Life seemed perfect.
But not everything is what it seems.

Turned out Conner had another side to him, a darker side that Avery didn't see coming. He wrecked and broke her into a thousand pieces, leaving Avery to put herself back together. From then on, Avery vows never to let a man into her life again.
But then she meets Tristan Morganson. He's sweet and sexy and wrecks Avery in a different way than Conner did, the kind of way that makes her feel alive again, the kind of way that makes her think maybe not all guys are bad. But can Avery trust him enough to let her walls come crumbling down?

*Can be read as a Standalone*
Buy Links
Amazon
Barnes & Noble
What I thought about Wreck Me
Avery has one rule, and that's "no men".

She's been burned before and she's not going to go through that again.

She's focused on her own recovery, her son, online classes, an assortment of low to no-pay jobs, a brother who lives with her and her obligations to give back to Habitat for Humanity by donating her time to build the next house.

Her plate is full of lots of unrewarding activities, and she's mostly just tired.

She doesn't time to think about relationships, especially Tristan, the guy she met three months ago. But he's in her head, and she drops her guard once in a while to read the note he left for her before he moved on.

Tristan is still struggling with his drug addiction, and although he's clean, he still feels the pain and loneliness that made him turn to drugs.

But he's never met anyone like Avery, and she's on his mind too.

When Tristan returns to build another home in Avery's town, he finds himself working side by side with her.

What follows next is their falling in love story, and it's not an easy one.

Avery still has a "no men" rule, and Tristan is convinced he doesn't deserve her, but they can't stop their attraction for each other.

The story is told in alternating POV's, and also switches between present day and the past so the reader can get Avery's backstory.

It's a sad tale of a drug addicted mother, absentee father and a marriage that was probably doomed from the start. There's abuse, drug dealing and alcoholism.

My heart really went out to Avery because she really had a lot of bad things happen to her, and yet she's still determined to make a better life for herself.

But she can't deny her feelings for Tristan, and eventually agrees to be friends with him.

There's still a struggle regarding drugs when it comes to Tristan, and it's such a great moment when he interacts with the drug dealers next door and recognizes his past, realizing that he doesn't want to go back to that place. He's come so far with his recovery, and even though he slips a little, he's got great support around him in Nova, Quinton and Avery to not chuck it all away.

Tristan has a lot in common with Avery, especially a cruel mother and being in recovery. They both share a brittle hope that things will get better for them, while carrying around shameful secrets that they have trouble sharing with each other.

Gradually, they learn to trust each other, and it's such an uplifting moment when Avery gives him a chance and their relationship blossoms into something real.
Their new-found relationship hits a bump when Avery's ex-husband comes back into the picture and his storyline merges with Tristan's in a devastating incident that had me holding my breath for a few pages. I really love this series for its realism, and I was so happy to read their happily-ever-after. Much like Tristan himself, the story plays out in a semi-quiet fashion until the very end.

I think Nova sums up this story (and series) best when she says... "Drugs are easy to sink into.

It's the coming out part that's hard."

It certainly is a tough journey for Tristan and Avery, which only made the ending all that much sweeter.
About the Author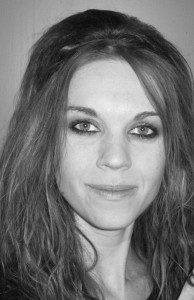 The New York Times and USA Today bestselling author, Jessica Sorensen, lives in the snowy mountains of Wyoming. When she's not writing, she spends her time reading and hanging out with her family.